FOLKLORICO YOUTH ACADEMY: Here at Leyenda Dance Company we offer in person classes that are very comprehensive and efficient Mexican traditional dancing classes. WE WELCOME BEGINNERS WHO HAVE NEVER DANCED BEFORE.
CHILDREN FOLKLORICO CLASS: (7-12yrs old) Sundays 10am -12:00 noon depending experience
TEENS FOLKLORICO CLASS: (13-19yrs old) Sundays 12:00 noon -3:00pm depending experience
YOUNG ADULTS FOLKLORICO CLASS: Sundays 12:00 noon -3:00pm (Lots of Cardio) NOTE: (up to 30 yrs old)
MOMS RECREATIONAL CLASSES (ADULT WOMEN) UP TO 55YRS Sundays 8 am to 10 am
I do not own the studio so DO NOT MAIL payments TO THE STUDIO (your payment could get lost or never received)
TODDLERS (4-7 yrs old) NOT IN SESSION RIGHT NOW. But usually Sundays (These classes are Seasonal, This class depends on having a minimum of enrolled students to be able to have this class. (It's a parent-child class) (Right now we DO NOT have enough students enrolled to start a class yet. Therefore we are only taking names of interested parents and placing them on the waiting list.)
BUT LET'S NOT CONFUSE THE MOMS RECREATIONAL CLASS WITH THE PERFORMANCE TEAM. THE MOMS TAKE RECREATIONAL CLASSES THAT ARE MEANT FOR THEIR SKILL AND ENJOYMENT. Moms class is different than the occasional young adult that comes asking to be part of the performance dance team with the teenagers and college age dancers.
Leyenda Dance Company welcomes young ADULTS THAT ARE INTERESTED IN LEARNING Ballet Folklorico. (Ages up to 30 years old) for the performing dance team that dances in the red carpet galas and Theaters. A young adult is welcome to come take a class to see how they keep up with the pace of performing arts team. Then, qualification is through the directors decision.
These young adults aspiring for the teen-college age performance team need to be in shape and physically fit to follow the 2.5 hour non-stop cardio class content. LEYENDA trains for high end shows and aims for great performanship. We have parents that have successfully trained here. Give it a try. They have done GREAT! If you are slim and can handle 3 hours cardio come and be part of this training. Our group is not a recreational group. Teens and young adults train to dance in shows in a fast paced environment. We think that the right individuals would enjoy very much being part of a serious team and enjoy the challenge. Also. Members must live close to the studio. 25 mile radius from studio is best. This ensures that students can participate dancing in the shows and the classes with consistency and reliability.
LEYENDA DANCE COMPANY reserves the right to mix dancers from different levels or age in a case by case basis for example to prepare for large shows in which all levels are going to perform or in the transition or a dancer to a new level. Approved by Director only.
These are the ""ACADEMY"" classes we offer at the moment.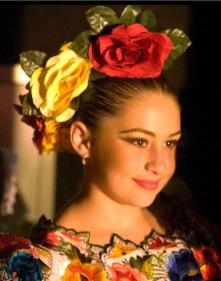 NOTE: The performance team and International team are separate programs. EMAIL us if you are interested in auditioning for our highest level programs. Enjoy the benefits of performing in the finest events, red carpet galas, performing arts international tours, etc
The performance team is not a recreational group.
We reserve the right to recommend a class that fits the skill.
We reserve the right to refuse service.
By Paying tuition you agree to our terms and conditions and we hold the right to run our company the way we see fit.
Our Ballet Folklorico Performing Team Classes are geared to nurture professional skill and students are taught a variety of Ballet Folklorico Mexican dances. We prepare students for folklorico theater level shows were they can demonstrate the following skills we teach: technique, choreography, stage presence, stage projection, performing arts posture, stretching, aerobic stamina, body conditioning and fitness, ballet technique, dramatization, improvisation and the background of the dances we teach.
With LEYENDA DANCE COMPANY method of Ballet Folklorico classes, students can be prepared to perform in elaborate folklorico shows locally in Riverside, Orange County, Los Angeles, San Bernardino and international stages.
The Folklorico Youth Academy welcomes students with little or no prior Ballet Folklorico experience. With serious determination and team spirit, new students can thrive fast.
Our folklorico teaching system challenges the students to learn in a fun but professionally structured environment.
LEYENDA DANCE COMPANY believes children deserve to be thought complex choreography and steps. We believe that whether the kids have experience or no experience at all, children can learn and be amazing artists. Look at the photo gallery and see our work speaks for ourselves.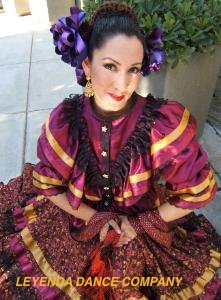 Please contact us for the latest class schedule. 951 642-1867 folkloremexicano@gmail.com
GIVE YOUR KIDS GREAT MEMORIES.
LET THEM LEARN CULTURE AND BE PART OF A VERY SELECT KIDS / TEENS TEAM.
Performances are in very classy venues like Museums, Galas, TV Shows, Local cultural and social events, and even Hollywood movies participating as "background" for films.