TODDLER CLASSES
(RIGHT NOW WE DON'T HAVE TODDLER CLASS. WE CAN ONLY TAKE NAMES TO ADD TO THE LIST until we have 15 students to start a new class session)
MEANWHILE: We just opened MOMS CLASSES (Adult women up to 55yrs) Sundays. Check our SCHEDULE Tab on the main menu.
Why Toddler classes? Basically, after the success of our children classes it only made sense to offer the same quality instruction to toddlers.
We had several requests by parents who wanted their little ones start a class that is geared specially for them. So we decided to merge our teaching style with a fun environment where students learn ballet folklorico encouraged by games, a fun environment and clever approach to make the class interesting to toddlers with a short attention span.
The toddler class primarily teaches steps, posture, team player attitude and conditions the student to practice memorization skills.
THIS IS A CLASS IN WHICH PARENT-TODDLER TAKE TOGETHER a class session.
Toddlers learn dance routines that are easy but teach great posture and choreography concepts like lines and circles. They learn how to turn gracefully and carry themselves with grace and strength.
Toddlers will have their own performances, shows, showcases throughout the year. The shows are always of high standards and very pleasing to the toddlers's family, friends and audiences.
TODDLERS (4-7 years old) (Seasonal only, Please check before) (Currently this class does NOT have sufficient students to start a session so we are taking names for the waiting list. We need 15 toddlers enrolled to open a new class.)
CONTACT US VIA EMAIL for details: folkloremexicano@gmail.com
Give your kids long lasting memories. Give them the gift of exploring Mexican traditional dancing and the joy of new friendships that could last a lifetime.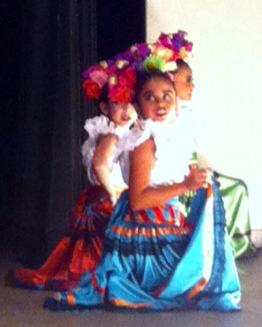 .